February 15, 2021
Environment Rep Report
Sisters and Brothers,
Hope all is well, and you are staying healthy and safe.
The members of the Environment Committee along with the Environment Rep & Alt. Rep belong to the Unifor West GTA Regional Environment Council and have continued to actively "meet" in zoom sessions to discuss, share and plan together as environmental activists. The Unifor West GTA Regional Environment Council consists of Unifor Locals within the Peel, Halton and Dufferin regions who unite together and extend their collective voices beyond our local workplaces and communities   The Council also partners with community groups to advocate and participate (when possible, due to Covid19) in Environmental initiatives around the West GTA Region.
 Through education, political action and community involvement we strive to protect, enhance and restore the quality of our environment.           I would like to invite interested members to join in and attend any of the monthly Zoom meetings to share your Environmental ideas, experiences and get involved in a greener future!  
In December 2020, the Unifor West GTA Regional Environment Council held tri-annual elections and I am happy to report that three Local 707 members were elected to positions:
Cyndy Anderson L707 Environment Rep. elected to Vice-President
Constance Brown L707 Alt. Environment Rep. elected to Sargent at Arms
Evelyn Abercrombie L707 Environment Committee Co-Chairperson elected to L707 Representative.
Lastly, as we do our part to deal with this pandemic, Doug Ford's Government has been busy through decision making and legislation to rewrite the rules for Municipal planning in favour of developers.  We face the conversion of thousands of acres of prime agricultural land into urban uses, weaken environmental protection and the Ford Government is using these new rules to run roughshod over Municipal attempts to fight Climate Change.   This includes the proposed GTA West Highway 413 that will cut through the south end of Halton Hills.  It will pave over farms, forests and wetlands, increase carbon emissions and cost taxpayers Billions! A local group is working to stop this unnecessary highway; ask for a lawn sign at stop413haltonhills@gmail.com  or visit https://environmentaldefence.ca/stop-the-413/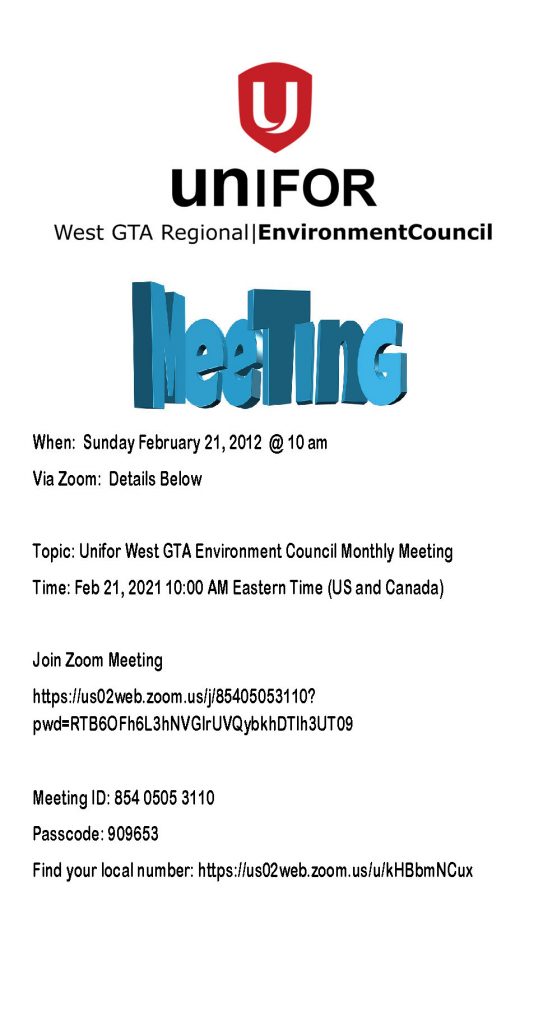 In Solidarity,
Cyndy Anderson
Unifor Local 707 Environment Rep.
cande197@ford.com