Ratification Vote-Online – send your email & GID today to register to uniforford2020@gmail.com
The Bargaining Committee would like to thank the membership for providing a strong Local Strike Mandaite of 96.8%, as it has strengthened our position at the bargaining table.
The strong strike mandate provided, has bolstered our Bargaining Committee and informed the Ford Motor Company that we are united in our goal for a good contract and a long-term future for the Oakville Assembly Complex.

RATIFICATION VOTE-REGISTRATION
Due to the provincial and municipal by-laws surrounding the COVID-19 pandemic we will not be able to collectively physically meet, as we usually would for our Ratification Vote – so we ask that you kindly email us your GID and email at UniforFord2020@gmail.com by Wednesday September 16 at 5pm END OF #3 Shift. ANY EMAILS RECEIVED AFTER 9 am on Thursday Morning will NOT be submitted. So get yours in today if you want to receive it via email
Despite this challenging environment, we feel it is essential that we all exercise our democratic right and responsibility to participate. It is your future and you need to be involved in the outcome.
As such, we will have an Online Ratification Meeting and Vote. The meeting will be live on a WebEx/Zoom style video conference where secure login is needed. The video conference website will allow for an information package and a visual presentation of the tentative agreement from our Bargaining Committee, in which members will have the opportunity to ask questions through a moderator – The link provided by email will be the easiest way to participate so get your email addresses& GID in TODAY!!! Once again, we will be asking the membership to use a secure login through the Simply Voting website when our Vote takes place.
In order to provide further options for our membership, we have given you the opportunity to receive a direct link and new password, via your email for Ratification meeting and Vote or instead receive a new password and website information for Ratification in another mail out, just as you would have received for our recent Strike Authorization Vote. We will need new passwords again for ratification.

If you would prefer an email to remind you of ratification and the direct link with password to your email, you will need to send your GID and an email to UNIFORFORD2020@GMAIL.COM . THIS IS FOR LOCAL 707 MEMBERS to send your email no later than Wednesday September 16, 2020 at 5pm, with the following information:
Email -subject line – "ADD MY EMAIL TO MY NAME"
First Name and Last Name
Global Identification Number (GID)
ALL OTHER LOCALS need to register with their local.
IMPORTANT NOTE: If you do not provide your Name and GID to the above email or you have not provided your required information to do so by Wednesday September 16th 2020, you will receive your new password in the mail for the Ratification Vote no later than 1 day prior to the Ratification vote, and again you will be able to participate and vote just as you did for our Strike Mandate Vote.
ALSO NOTE: Any issues that do arise, similar to the last vote will be dealt with on a case by case bases if we get notified in time.
If you do not have online access or need assistance voting. Our Election Committee will be available at our Local 707 Union Hall, on the day of the Ratification Vote. Dates and times to be announced at a later date. If you need assistance voting and will be attending the Local 707 Union hall, you must have identification (2020-2022 Union Card, Ford GID Card or Government Licence)

Any questions, feel free to call the union hall and speak with any of the officers who are currently available. Dave Millar (Vice President), Janet Creet (Recording Secretary) and/or Brett Lefebre (Financial Secretary) will be more than happy to help you with your concerns with this system.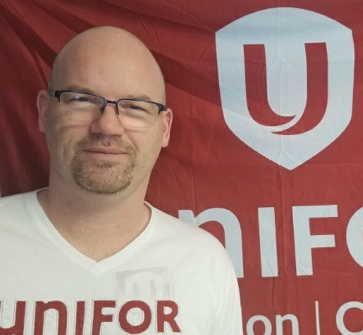 Unifor Local 707, Vice President
Dave Millar