Greetings Brothers and Sisters,
While conversations surrounding diversity and inclusivity (D/I) are not new, these discussions have definitely gained momentum over the past few years. This has involved a growing recognition that D/I are significant and beneficial for both an organization AND its workforce. Education, engagement and advocacy are a few progressive strategies that are commonly used to help improve diversity and inclusion.
The equity office is committed to promoting and supporting endeavours related to creating and sustaining both of these practices. Diversity is about the representation or make-up of a group and inclusion is about how well the ideas, experience and perspectives of different people are valued and integrated into a shared environment.
In the near future you will see Diversity and Inclusivity survey cards available at the screening gates. Information gathered will allow for some insight into the general perceptions members/employees hold relative to diversity and inclusion at OAC. Participation is voluntary and anonymous. This brief survey is intended as a benchmark indicator to help gauge feelings in terms of cultural awareness, personal value and collective experience. Feedback will be reviewed by a joint D/I advisory committee allowing for a balanced approach, collaborative effort and continued improvement moving forward.
In Solidarity,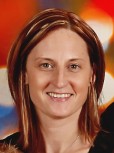 Stacy Pooler – Employment Equity Representative
March 16th, 2021
Leah Douglas – Alt. Employment Equity Representative