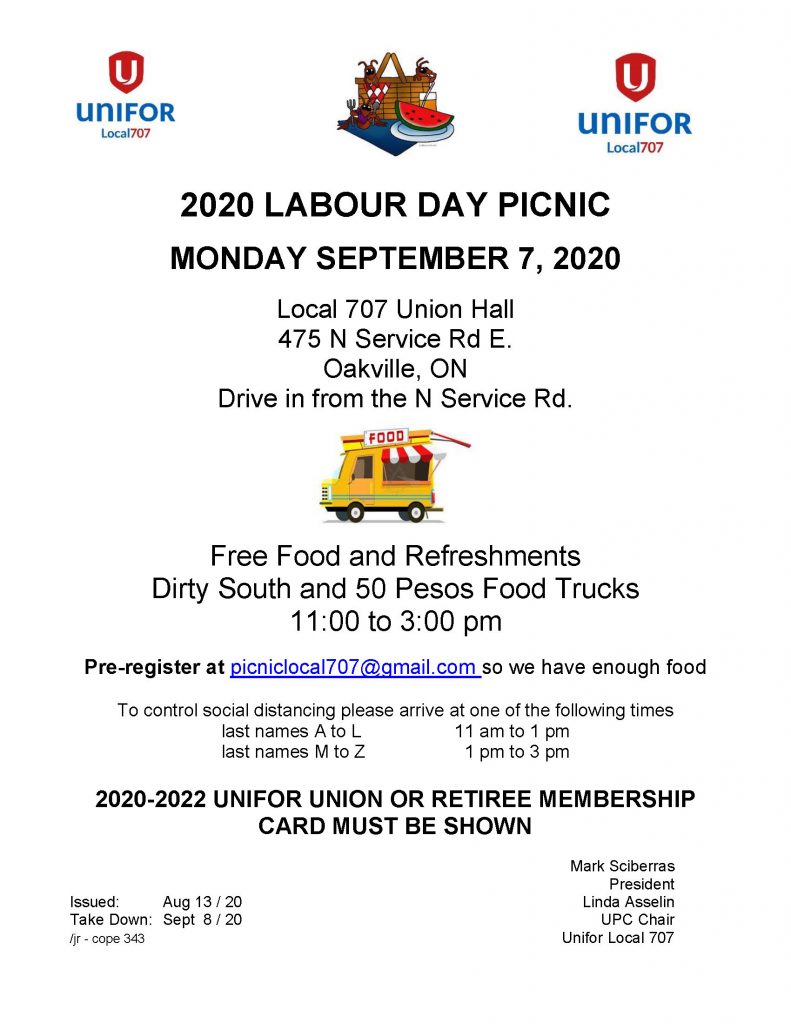 RAIN OR SHINE!!!!! Food is paid for. Don't let the Labour Day blaws get you down! If you have signed up, come on out.
On Monday September 7 we will be hosting a Labour Day Picnic for the membership. This will not be our typical Labour Day or Picnic event due to the COVID-19 restrictions set out by the Government of Ontario. Due to these restrictions we require your assistance in making this event a safe and enjoyable one for all.
The event will take place in the parking lot of the Union Hall at 475 North Service Rd. E. from 11 AM to 3 PM. We are only allowing members to enter the lot using the North Service Rd. E. entrance. Upon entering, you will be registered by one of our volunteers while remaining in your vehicle. Once you are registered and received your ticket(s) you will make your way to the back of the building and find a spot to park. We will have more volunteers in the lot to help you get to either of the two food trucks that will be on site. A very limited number of tables and chairs will be available if you choose to sit and eat your meal or you can take it and go if that suits you better.
In order to help us make this event work we need you to pre-register at picniclocal707@gmail.com . We will just need to know your name and Master number as well as how many family members you plan to bring with you. This event is for immediate family only. This will ensure we have enough food for everyone. Please note: there will be no access to the union hall on this day.
We want to control the physical distancing and ask you to arrive during one of the following times:
Last names start A to L 11 AM to 1 PM
Last names start M to Z 1 PM to 3 PM
2020 – 2022 Unifor Local 707 Union or Retiree Membership card must be shown
Food Truck Services will be provided by:
On behalf of the PICNIC Committee,
Linda Asselin Picnic Committee Chairperson