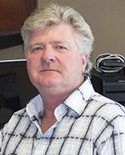 Brothers and Sisters:
Here is a quick update on the events that have occurred since Ford Motor Company announced the down turn coming at OAC.
The company has now started the task of eliminating the Number 1 Shift in Paint Department and they are currently canvassing available openings. Unfortunately, when the company imposes situations such as this it will also cause major uprooting in classifications and some of our members will ultimately be bumped from their jobs.
We, as a Local, are fighting daily to minimize the damage. Since I first updated the membership, the In-Plant Committee has accomplished great work convincing the company of the need to retain certain classifications in different areas of the plant. We will continue to do what is best for the Membership of Local 707.
If you are having trouble getting answers please contact the Shop Floor Stewards and or your Committeeperson for guidance.
I have responded to all media inquiries since last Friday with 6 interviews on every TV station in the GTA.   It surprised me when speaking to the reporters, they all relayed the same incorrect information that Provincial and Federal politicians were reaching out to offer condolences and or any kind of support or assistance they could provide.
Brothers and Sisters, only the following calls were received and this was from NDP Leader Andrea Horvath's office, Jamie West NDP MPP from Sudbury, John Oliver MP for Oakville and the Honourable Bill Mourneau Minister of Finance for the Federal Government.
Mr. Mourneau has scheduled an appointment on Monday to meet with Senior Leadership in Oakville to discuss strategies pertaining to our situation.
Plenty of comments are written in the media from Provincial MPP's who said all the right things but we as a Local were not contacted directly.
Rudy Cuzzetto, MPP Mississauga-Lakeshore and a retiree of Local 707 did not make an effort to contact or offer any assistance to us.  You would think our Provincial Conservative Government would have taken time to show their support.
Sisters and Brothers, we need our governments to step up and form a strategy to keep good paying manufacturing jobs in Canada.
As always as developments arise, we will keep you posted.
In Solidarity,
Dave Thomas, President