Dear Brothers and Sisters,
I would like to Wish all of you a Very Happy Holiday! All the Best in the NEW YEAR!!
Just to recap some of the positive effects of what we do every day for the Environment; when we separate and use the recycle lineside bins to ensure more material is recycled and less goes to incineration… Thank you for taking the time to ensure your waste is separated and using the appropriate bins available throughout the facility to achieve a high quality, high volume recovery of material. These actions contribute to a healthier Planet and Environment for all of us!
SINGLE STREAM RECYCLING PROCESS AT OAC.
Single-stream recycling is a system in which recyclables of all kinds (including plastics, paper, paper towel, metal cans and glass) are placed into a single LINE side bin by employees. The recyclables are then collected and transported to a material recovery facility (MRF) where they are sorted and processed. This system is designed to handle a fully commingled mixture of recyclables.  The clear plastic bag ensures a primary visual sort of the recycle bin contents and safety for Leadec employees handling the contents.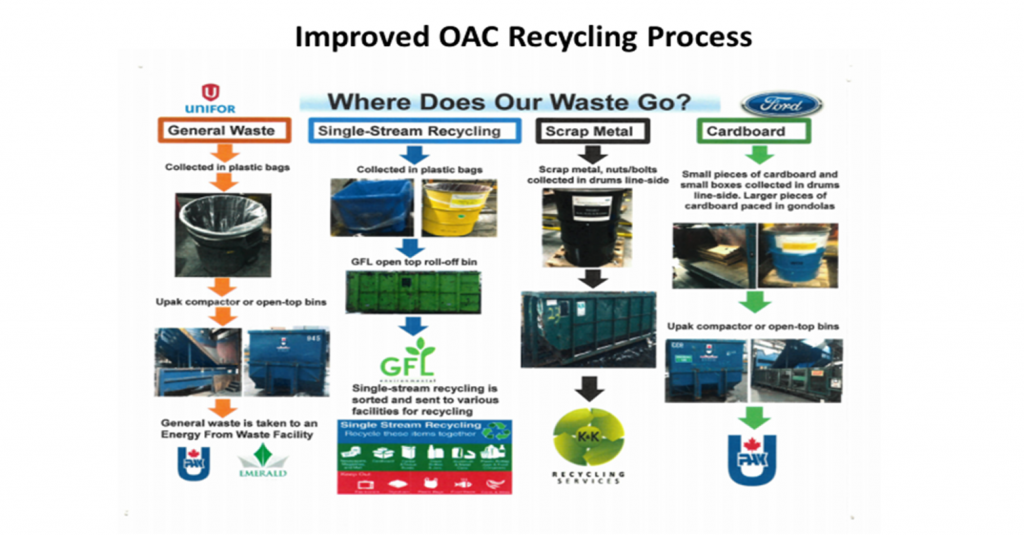 The better we segregate our waste; the less material goes to WTE (waste to Energy).  This is better for our Environment and conserves raw resources & energy.
New recycling process of Automotive plastic scrap parts
The recycling process of plastic scrap parts was finalized and implemented in Oct 2021 at OAC. This new recycling process will save 75,000KG of plastic from OAC's waste stream along with some cost savings that will keep the project viable and contribute to a circular economy.
See how Ford is using 100% recycled ocean plastics to produce car parts
Ford adds to its legacy of using sustainable materials in its vehicles and becomes the first automaker to use 100% recycled ocean plastics to produce car parts; wiring harness clips in Ford Bronco Sport are the first of many the company plans to produce using discarded plastic fishing nets.
Ocean plastic is collected by workers in the Indian Ocean and Arabian Sea, promoting healthier marine life, reducing landfill waste and providing jobs.  Recycled plastics provide a durable,   low-cost material that is comparable to petroleum-based plastic at 10% cost savings and requiring less energy to produce.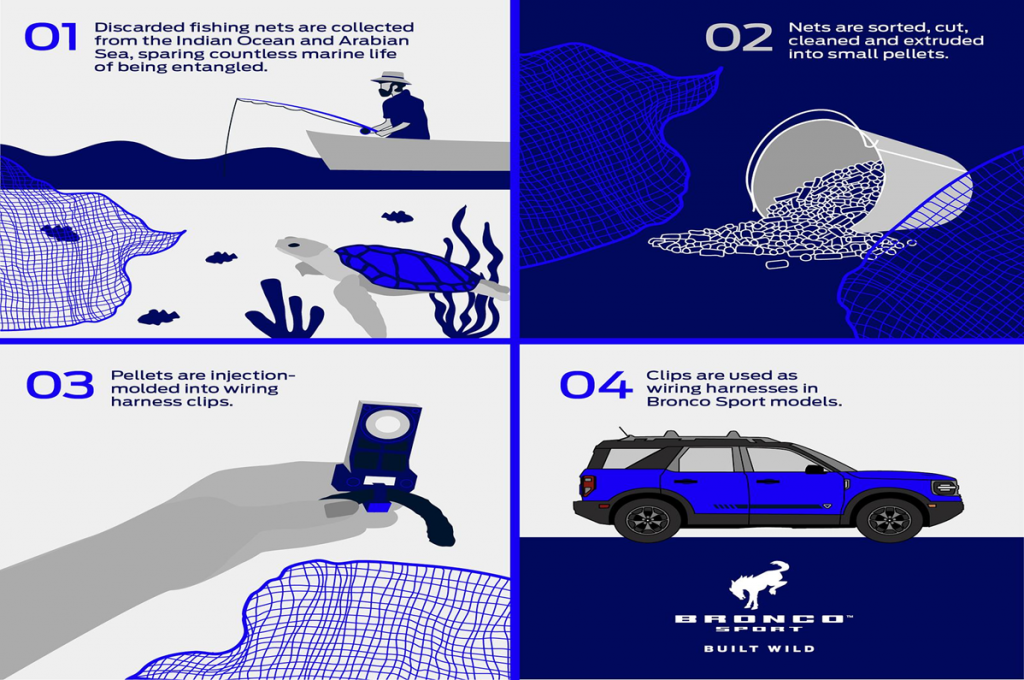 Cyndy Anderson
Local 707 Environment Rep