As part of our ongoing aim of making things easier for our members … especially in the middle of a world-wide pandemic, we have set up an online store through our unionized online support team at Union Marketing. 707shop.ca is our new online store. It is not being run at the local union hall but has all things Local 707. We decide what products go in to the store but you can only order online as the products will not be here at the local union hall.
As many of you have already signed up for the 707member.ca email through https://uniforlocal707.org/events/welcome-to-member-mail-and-portal we have now set up an online store for anyone looking for swag. The idea of being able to order your shirts, hats, toques, scarfs and much more and not having to go to the union hall to pick it up or worse go to the hall to find out that we do not have your size in stock has been something we have been working on improving to make it easy for you, the member to get what you want within a few days and sent to you via Canada Post and delivered to your doorstep is encouraging. The store is located at https://www.707shop.ca
Hats, hoodies, shirts, watches are available right now. We as a local union are not responsible for any order that you make. It is being done direct from the marketing company that we utilize and concerns about a size need to be taken up with them directly through the store.
For quite some time we have had shirts, hats, jackets all available at the union hall. We still have some of our old shirts and jackets available but this gives us the opportunity to deal with real issues rather than worrying so much about not having a medium or large shirt available and making members wait weeks for an order to come in.
Make sure you are signed up for our email addresses and register today. As stated in earlier posts, we have made available a shirt for the first 1000 who sign up for this program. We have not yet reached 1000 so sign up today.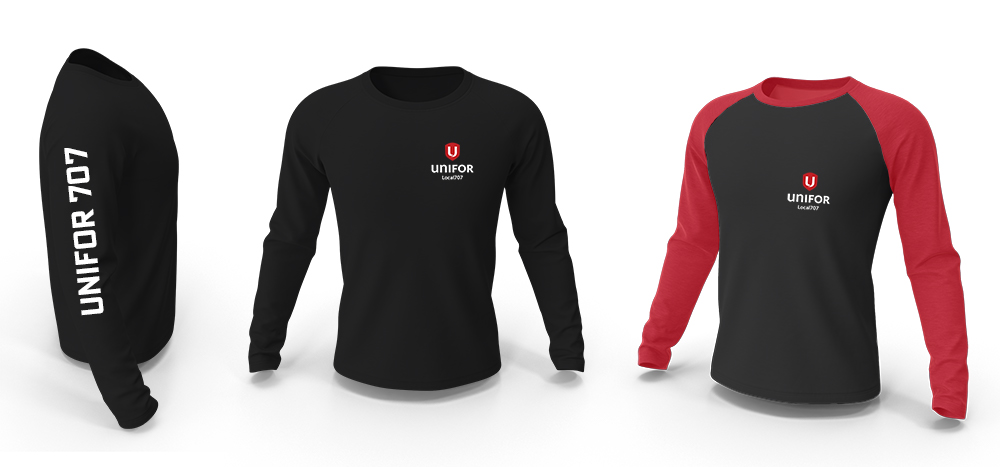 When you make an account to purchase through the 707shop.ca , we ask that you have one of our accounts to register there as well. One time registration for the shop and one time for the email and portal. Simple.
Thanks all for your help and patience. Spread the word to your fellow members. Ford, Leadec and Abednego members are all eligible for this offer. Retirees will have an opportunity to sign up in the next few months once all active members are set up.
For those who have set up their 707member email account, you can go in to the "survey" section in the App and answer with which shirt you would like and what size now. We had up until yesterday a different survey that asked for shirt size. It seemed too difficult to find so we changed it up to make it easier. I have even seen some members post on social media how easy it actually is. Some still have some issues. Email Dave Millar at vp1@uniforlocal707.ca and he will help you out if you can't get signed up.