Wishing all of our members Retired and Active, a very safe and prosperous 2021. Now that it is 12:00:01, we can say that hindsight is 2020 and we are hoping for a better year for all of our active and retired members and all of their family members.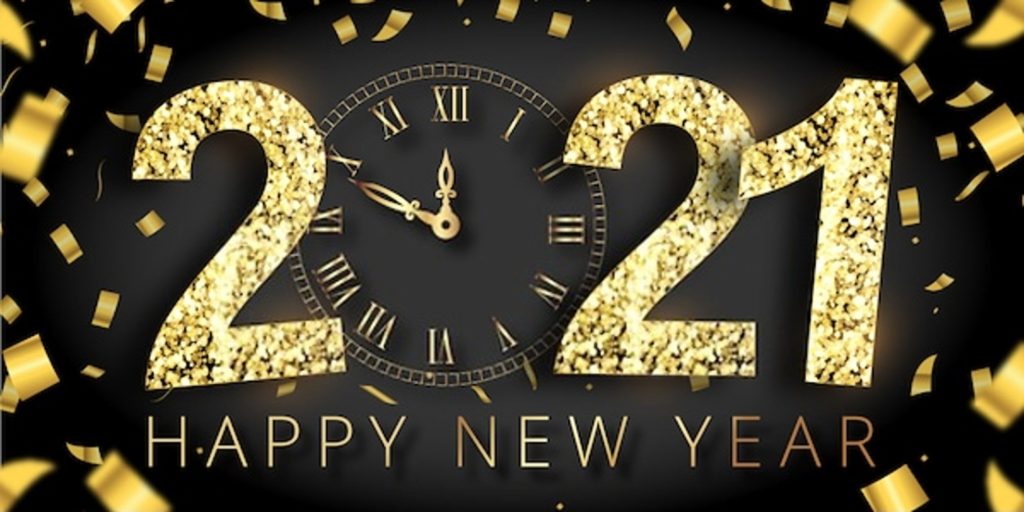 2020 was a busy year for our local union. We started off with a one week layoff followed with a by-election for Vice President as Brother Sciberras assumed the position of President following the departure of past President Dave Thomas to Ford Council Health and Safety Coordinator.
February brought us to an indefinite layoff that affected initially 400 members. Many have since returned but layoffs are never something that any of us should look forward to. Hoping that those affected are doing well and we look forward to eventually getting you returned to work.
Our triennial elections took place in March. Congrats to all of those elected to represent the membership during the coming 3 years.
In March of 2020 the world was changed as we have known it with the arrival of the COVID-19 Pandemic and the basic shutdown of not only our nation but all of the countries around the world.
Retirees have not been forgotten. Many have still been in touch with us at the Union Hall and we have been on the phones with hundreds of you. We have also had many retire. We wish you all good health and a long and happy retirement. We also lost multiple retirees during 2020. Those brothers and sisters who put in over 30 years have helped pave the way for all active members to be where we are today. Thank you retirees for your fight over your work life as well as in your retirement. Without you, there is no US.
Retirees have been hit hard. Many have missed attending different events, bus trips, retiree membership meetings, Tai Chi and many other gatherings over 2020. We aim to get you back with us again as soon as it is safe to do so.
When our members returned to work in late May or early June, we came back to a new work situation that continues into the New Year. Safety protocols were put in place and our members have stepped up to all of the challenges that were put in front of them. Our Health and Safety reps as well as the in plant committee have worked hard to ensure the company takes care of our members.
EI/CERB/SUB/CEWS brought more acronyms than many of us have used in a long time. There was issues that we faced with those acronyms and we will continue to monitor and be there to help our members throughout the new year also. Special thanks to Paul Ivey and Tim Batke for the incredible amount of hours they have put in over and above their 6am-4:30 regular hours. The work has been gruelling and constant. These 2 brothers have been doing their best to ensure all of your benefit needs have been addressed.
July brought us in to the 21st Century with our new website. We now have the ability to communicate with our members directly through our website rather than people panicking about what social media has to say. If you want to know what your leadership is saying – Come on our site and we will keep you up to date.
Our AWOC Committee and Women's Committee, United Way Canvassers, Picnic Committee, Community Service Committee and all of our other committees had very busy years. Thank you all for all of the work you put in to help others both in the plant and in the community as a whole. Your efforts prove what the power of a union is all about.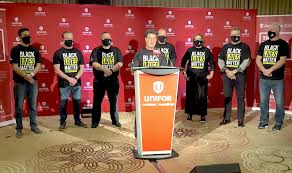 September brought us a historic collective agreement that ensures that we have a prosperous future that we can all one day retire from. Thanks goes out to all of our members for supporting the work that was put in by our bargaining team made up with: Mark Sciberras (President), Bob Scott (Plant Chair), Darrin Caerels (Skilled Trades Chair), Marc Brennan ( Ford Council Vice Chair & Chassis Committeeperson), Keith Grist (Body & MSC Committeeperson), Chris Simpson (Trim Committeeperson), Joe Oliveira (Paint & MP&L Committeeperson) and Scott McColeman (#3 Shift Committeeperson). During a worldwide pandemic these brothers brought home a future that will be a spark to helping grow our country moving forward.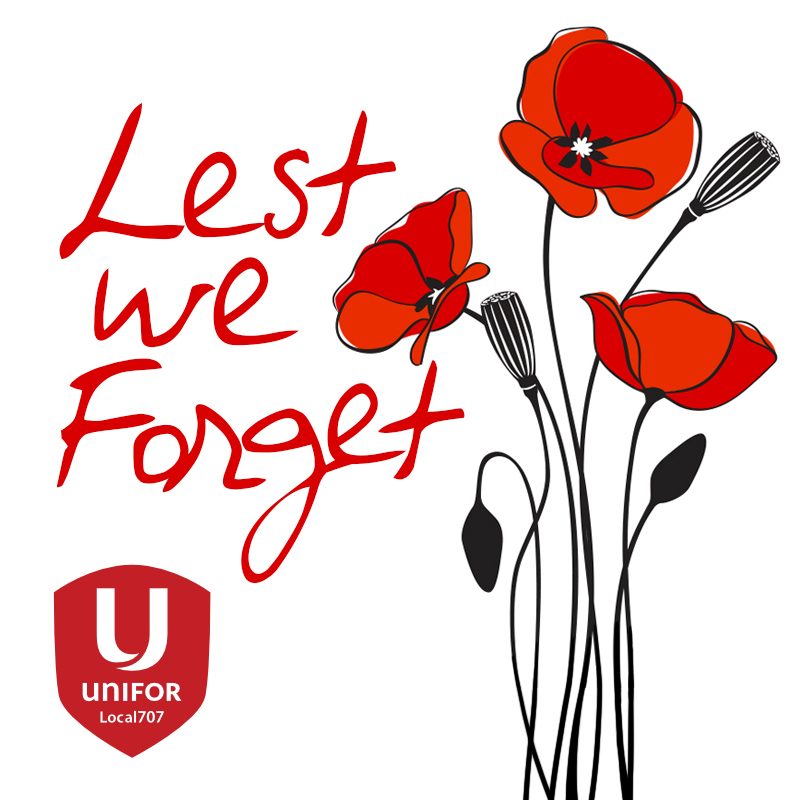 November brought us the first virtual Remembrance Day service that we have ever seen. We have active retirees that have served our country that still participate yearly and we salute you for your service to our country. We salute all of those soldiers who have fought for the rights and freedoms we have today. Pictured below is 84 year old retiree Don Barker who is also a retired Navy Vet. We are proud of your service brother and all others who have served.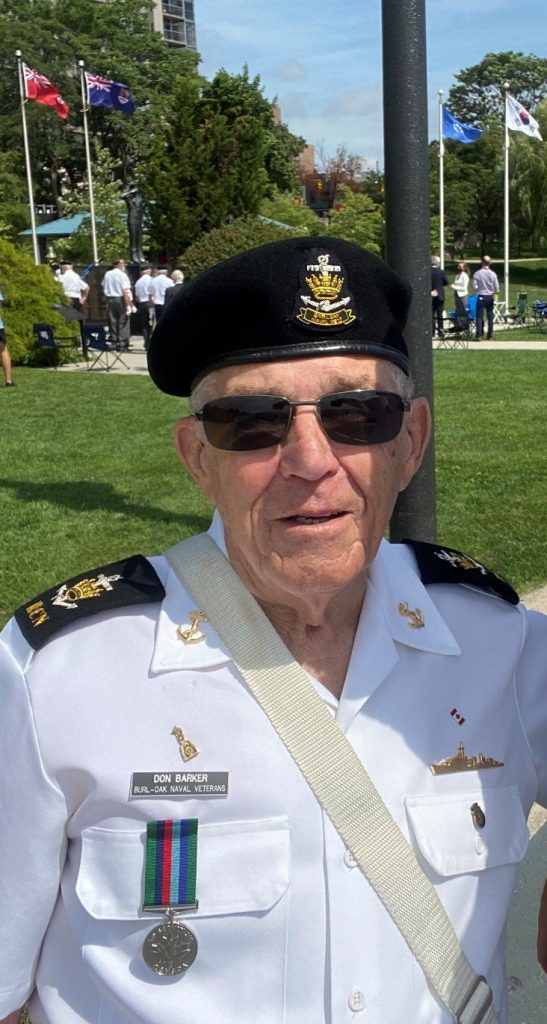 To our Leadec members, you have kept our plant clean during tough times and under a constant magnifying glass – keep doing the fine work and THANK YOU for keeping close to 4000 active Ford, Leadec and Abednego members safe throughout possibly the toughest year on record of O.A.C.

To our valued Abednego members, you may be small in numbers but your value often flies under the radar. You are invaluable members of our local union and we are blessed to have you do the work you do to enable that the plant we all work in is in working order.
Remember to sign up for your new firstname.lastname@707member.ca email address. We have started to see quite a few of you signing up in the 2 weeks since the launch of the portal and emals. Soon we will be seeing the majority of our members sign up for better communication with the leadership moving forward. Every effort is being made to make this a success moving forward. Information was previously posted on how to join but look to the far right of the menu strip at the top of the web page.
This post barely scrapes the surface of all of the outstanding deeds our members have done this year. It barely brings to detail a small percentage of the work that was done by the leadership as well as the membership. From Leadec to Abednego to Ford members, from Skilled trades to Retirees to Production workers – you have all stepped up during difficult times. Thank you all Brothers and Sisters.
Moving in to 2021, we will start off with layoffs for the first 2 weeks back. The company posted in early December that we would have no production from January 4 through the 17th. We are tentatively set to return to work on January 18th, 2021.
Hopefully we see a lot of work throughout the year and an end to this pandemic. Whether you choose to get a vaccination for Covid-19 or not, please be respectful of the decisions that others make and do your best to ensure your personal safety and that of your family as well as your co-workers. Stay safe, work safe, be safe. May 2021 be prosperous for us all.
On behalf of the Executive Board,
Happy New Year