Human Rights Day – December 10, 2020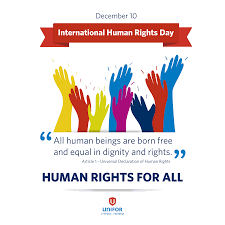 ---
Human Rights Day commemorates the day the General Assembly of the UN adopted and proclaimed the Universal Declaration of Human Rights in 1948. The aim for the Declaration of Human Rights was to establish and enhance its efforts internationally and globally to eliminate all forms of discrimination & oppression as well as teaching and working towards finding opportunities to recognize that every person deserves to be treated with the right to life, liberty, property, and the pursuit of happiness. On this day, though we acknowledge the importance of events, it is also important that our communities, governments and institutions are working towards advancing and promoting human rights and diversity as a strength to our society and within the workplace.  
So, here's how you can observe the day: 
Make a donation to a Human Rights charity of your choice. 
 
Show your support by attending a virtual Human Rights event or posting online and getting involved in online discussions. 
 
Lead by example! People deserve to be treated fairly, with dignity, and respect. Whether you're in a position of privilege or not, stand up for someone's rights today, because every day is Human Rights Day! 
Constance Brown 
AWOC Committee Member Chair