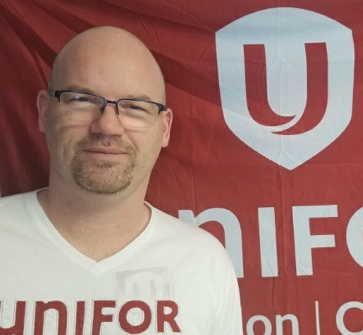 Sisters and Brothers of our LEADEC unit,
First of all, Thank you. You have gone above and beyond to make sure the workplace we all share is clean and safe from any of the issues that hundreds of thousands of people around the world are suffering from due to the outbreak of the Covid-19.
Leadec has notified the local union that they would be laying off the majority of our members for a period of approximately 14 days at this point in time. With the uncertainty of this escalating pademic, locally and globally, the length of this lay-off could change. Therefore I would ask that you keep checking our local 707 webpage for updates under my report and/or from Leadec Plant Chair Fuad Hassan. As Leadec management will need to update you on your return to work dates and/or extended lay-offs, make sure that Leadec has your current, updated and proper contact information to reach you by phone and/or mail.
EMPLOYMENT INSURANCE (Regular) Benefits – As most members have not applied for Employment Insurance Benefits for a number of years. Unifor has prepared and  provided detailed instructions below on how to complete a Employment Insurance Application.
It is imperative that you follow these instructions to properely complete your application and then upon receipt of your 4-digit personal access code in the mail, complete your reports to Service Canada to receive Employment Insurance benefits.
Important Inforamtion about Employment Insurance Benefits 
LEADEC will submit a Record of Employment (ROE) electronically to Service Canada on your behalf; therefore, you do not need to request copies from LEADEC. If after 2 1/2 weeks from the start of your lay-off, Service Canada indicates they do not yet have your (ROE) you should contact Leadec Human Resources at  email Agnieszka.Chyzinski@Leadec-Services.com  or call 905-845-2511 ext# 2007.
There is a one-week waiting period for Employment Insurance Regular Benefits for those on lay-off. After this one-week waiting period is served you would be eligible for Employment Insurance Regular Benefit payments.
While you have the option to receive Employment Insurance payments through cheques in the mail, it is strongly recommended that you provide Service Canada with your account information, so that you may instead receive your payment quicker through direct deposits to your bank account.
Given the current state of the Country and the amount of EI claims being submitted, expect delays in processing your claim
The EI application ONLINE, is VERY slow due to a high volume of applications being submitted throughout Canada at any given time.
Ensure you write down the TEMPORARY CODE when prompted to do so, this temporary code will allow you to go back into your application, should if be kicked off the website.
Due to social isolation and keeping a safe distance from each other at this time, if you need to communicate any issues, I can be reached in the office at (905)844-6431 directly or by email at vp1@uniforlocal707.ca .
Stay safe and I look forward to getting to see you all healthy soon.
In Solidarity,
Dave Millar
Vice President, Unifor Local 707
To Complete an Application Online go to:
https://www.canada.ca/en/services/benefits/ei/ei-regular-benefit/apply.html 
Next, click "Apply".  Then scroll down the page and click "READY TO START?"
Scroll down the page again and click "Start Application".
Note: Should you have problems finding the web page, do a "Google" search for "Service Canada". Once you have found the appropriate page prior to starting your E.I. Application you should know or have:
Step By Step Instructions below